Madison- Madison Bedroom Set by Glboal Furnither USA (King)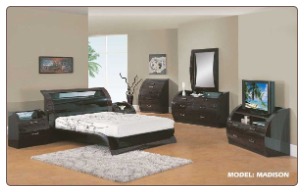 Click to enlarge image(s)
This modern and stylish bedroom set consisting of a queen size bed, 2 night stands, a dresser and a mirror will surely add an air of romance and sensuality in your bedroom. Each piece in this ensemble projects an air of simplicity and elegance making it hard to resist its temptation to enjoy a comfortable and restful night's sleep.The bed has a modular glass headrest in black. The two night tables feature two drawers. The functional dresser has six drawers where you can organize all your beauty, make-up and skin care products. Completing the package is a rectangular mirror with a frame that follows the contour of the rest of the bedroom pieces. Make this alluring bedroom set yours right now and enjoy the tremendous romantic possibilities this modern bedroom set can bring you.

Features:

* Set includes a bed, two nightstands, a dresser and a mirror.
* Modular headboard panel in glass finish
* Nightstand and dresser have enough drawer space
* An optional chest and tv stand are available

set includes: King size bed + 2 Nightstands + Dresser + Mirror.

** Also available: Queen size bed, Chest, Tv Base.


| | |
| --- | --- |
| # Queen size bed | 71 x 94 x 44 |
| # King size bed | 90 x 94 44 |
| # Nightstand: | 27x18x28 |
| # Dresser: | 70x20x37 |
| # Mirror: | 40x5x47 |
| # Chest: | 39x22x49 |
| Tv Base: | 54x20x33 |