Edwardian Poster Bedroom Set
Wow !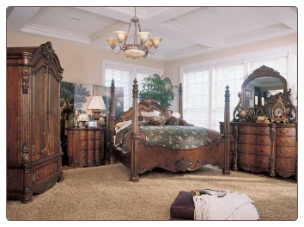 Click to enlarge image(s)
The Edwardian collection - influenced from styles bellowing from the seven seas brought to the Americas spiced with detailed elements of another continent. From the arrival of the Mayflower through the Civil War continuing through the Victorian era culminating in a uniquely designed collection by Pulaski.
| | |
| --- | --- |
| Queen Headboard | 65"W x 7"D x 60"H |
| Queen Footboard | 65"W x 5"D x 33"H |
| Queen Rails with Slats | 84"W x 3"D x 7"H |
| King Headboard | 86"W x 15"D x 66"H |
| King Footboard | 86"W x 16"D x 34"H |
| King Rails with Slats | 70"W x 4"D x 18"H |
| Nightstand | 30"W x 18"D x 31"H |
| Demilune Chest | 38"W x 20"D x 36"H |
| Dresser | 74"W x 20"D x 42"H |
| Dresser Mirror | 63"W x 3"D x 51"H |
| Vanity | 52"W x 19"D x 30"H |
| Vanity Mirror | 50"W x 11"D x 55"H |
| Bachelor's Chest | 47"W x 20"D x 37"H |
| 5-Drawer Chest | 44"W x 20"D x 54"H |
| Semanier | 29"W x 18"D x 64"H |
| Armoire Deck | 49"W x 24"D x 69"H |
| Armoire Base | 49"W x 24"D x 21"H |
| Small Armoire Deck | 39"W x 24"D x 70"H |
| Small Armoire Base | 38"W x 24"D x 21"H |