ALF Pavia Bedroom Set J&M Furniture
Wow !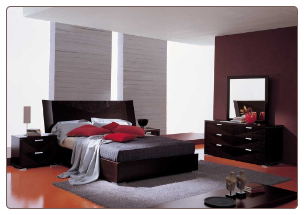 Click to enlarge image(s)
ALF Pavia Bedroom Set J&M Furniture
Modern style Pavia bedroom set finds its appeal in any home featuring high headboard bed and finely designed case pieces. The collection portrays a modern aesthetic that surrounds you with both style and simplicity! This set includes: Bed, 2 Nightstands, 5 Drawer Dresser, Mirror and 6 Drawer Chest
You can also buy 5 Drawer Chest and one more Nightstand as an additional piece.

Dimensions:
6 Drawer Dresser: W 62 "x D 18.1 "xH 32.6"
Mirror: W 33.67 "x D 1.18 "xH39.18 "
Night Stand: W23.34 "x D16.7 "xH 20.8"
5 Drawer Chest: W35 "x D19.4 "xH47.24 "