Ritz Sleeper Sectional by J&M Furniture
Wow !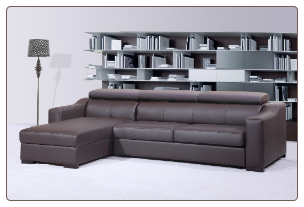 Click to enlarge image(s)
Lavishly appointed in chocolatebrown Italian leatherther, the versatile Ritz Sleeper Sectional enlightens any living space with two distinct personalities. Its daytime personality is grounded in comfort with high-resiliency foam cushions and a gentle slope-back design for refined relaxation. At night, a convenient sleep space emerges from beneath the cushions in the form of a foldout bed, which inclues a memory foam mattress, giving guests the perfect place to spend the night.
The Ritz Sleeper Sectional is as versatile as it gets. The chaise, which can be placed either on the right or left side, includes convinient storage space for pillows, magazines, blankets, toys, or whatever you may want to store!
This product also features
Adjustable headrest, as well as extremely smooth bed conversion mechanism.
Dimensions: 116x68 38.5 deep 32.5 to 39.5 tall with headrests up.
Mattress dimensions: 76.5 x 55 x 4