Best Sofa Rainbow Beige-Brown With Metal Arms Sunset Furniture Istikbal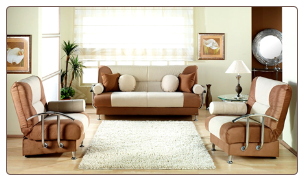 Click to enlarge image(s)
Create a comfortable seating group in your living room, family room or den with the addition of this Best Sofa Rainbow in Beige-Brown Sec. Set (Sofa and Loveseat) - Sunset Furniture - Istikbal. The Sofa sleeper easily folds down into a bed big enough for two when you need some place for your guest to sleep. Graceful and new Redeyef Brown colored fabric upholstery will draw your attention. Loveseat frame is carefully crafted of extra-strong and durable hardwood that are precisely corner blocked,fastened and glued for extra strength and stability. Small legs provide a sleek contrast that gives contemporary look. Sit back and relax and enjoy the Alfa Living Room Set.
The Best Sofa by Istikbal is indeed the best! It features extra storage space in the base, and the conversion from a sitting position to a bed.
Storage and Sleeper
Specification
This item includes:
IS-N0135-S-Best Best Sofa - Rainbow Beige-Brown - Istikbal/Sunset 82.6x38x37H Sleeper 76.8x47.2
OPTIONAL: Arm Chair.
Features:
Sofa in Rainbow Beige-Brown
Best Collection
With Metal Arms
In two-tone high quality upholstery
Dimensions:
Sofa: 90.2"L x 34.6"D x 33.5"H
Sleeper: 76.8"L x 47.2"D