Rians Living Room Set by Homey Design
Wow !!!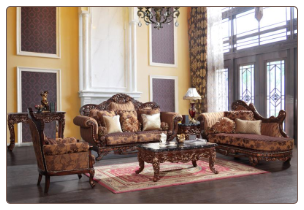 Click to enlarge image(s)
This elegant Victorian set has a Luxurious patterned accent pillows create a distinctive look, while the deep, plush seat cushion supports you in glamorous comfort and style. Seat cushion and button tufted back are upholstered in a rich chenille fabric and accented with intricately hand carved solid wood which continues along the front and up around the arms for an exquisite style that is sure to impress. Scrolling hand carved detail along the arms and base accent the grandiose traditional design. An elaborately carved crown adorns the center of the back of this exquisite piece. Collection Description - Achieve a grand and truly unique look in your home with the stunning Old world European designs of this beautiful collection. These pieces offer a variety of exquisite features such as hand carved solid wood frames and base panels on each piece, ultra plush, comfortable cushions and decorative accent pillows. With the available sofa, love seat and chair, you can create the seating combination that best fits your interior needs. Every detail on these pieces exudes elegance and sophistication. Ornate and unique accent pillows complete
this collection along with the soft, comfortable seat cushions which add color and texture to the composition. The shapely curves and exquisite details of this collection are sure to enrich your home with elegant style and design.
Features
•Rians Living Room Collection
•Delicate brown tones
•Durable chenille fabric upholstery
•Decorative fringed pillows
•Cabriole legs
•Detailed carving on the arms and base
•100% Kiln dried, Solid wood frame
•100% Hand Carved Decorative Solid Wood Frame & Trim
•Manufacturer: Homey Design
•Model number: HD66
Dimensions
SOFA, 100"L x 50"W x 37"H
LOVE SEAT, 73"L x 50"W x 37"H
Chair, 47"L x 18"W x 47"H