ESF - 8011 Modern Leather Sectional Sofa Set - ESF Furniture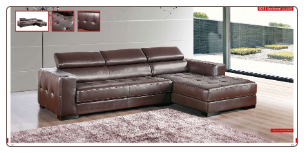 Click to enlarge image(s)
Description:

This Modern Leather Sectional Sofa Set - ESF Furniture will be a perfect addition to your living room with its modern and rich style with durable construction. This sectional will perfectly accommodate any contemporary living room setting providing with comfort to you and your friends.
This sectional is an ultimate addition for those who value comfort along with style. The sectional is composed of two pieces, which may be configured as left hand or right hand sectional or spacious bed. Spanish made this piece is crafted in full leather. Click "Item Specifications" tab for additional information.

* Modern style
* Adjustable Headrests
* Interchangeable Left or Right Chais Lounge
* Removable Arms
* *Available in a dark brown


Dimensions:


Sectional: W111" x 67" x D39.5" x H3"/40"
Mattress: 75" x 55"