Bradford Living Room Set by Coaster - 550241-2 (Sofa & LoveSeat)
WOW !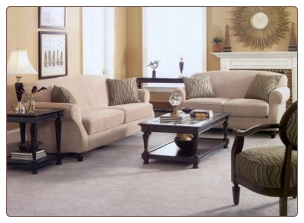 Click to enlarge image(s)


Bradford 2-piece living room set by Coaster includes a sofa and loveseat. This Bradford collection is a fashion find with a beige chenille fabric top. This updated design includes a shaped single cushion back, double seat cushion design, rolled arms and turned legs. Solid wood frame features kiln dried wood.


Features

* Beige chenille fabric top
* Shaped single cushion back
* Double seat cushion design
* Rolled arms
* Turned legs
* Solid hardwood kiln dried wood

Dimensions:

* Sofa: 86-1/2"L x 37"W x 38-1/2"H
* Love seat: 68-1/2"L x 37"W x 38-1/2"H

*The set includes a sofa and love seat.
**Optional item : chair .