Palmetto Small Roll Top Secretary Desk by Coaster
"wow"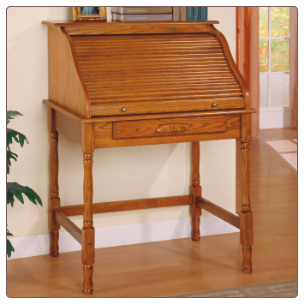 Click to enlarge image(s)
Return to a simpler time, when correspondence involved pen and paper and computers were just a newfangled contraption that had yet to catch on. This unique desk blends the classic silhouette of a roll top with the compact shape and storage capacity of a secretary. Turned post legs anchor each corner and offer a more elegant alternative to bulkier pedestal bases. A slatted top rolls back to reveal five slots for storing mail and stationery supplies, while a smooth rectangular surface provides ample writing surface. Antiqued brass finish knobs and a beautiful golden oak finish complete the vintage appeal of this roll top secretary desk.


Dimensions:

Width: 32.5" x Depth: 24" x Height: 44.5"