B138 Ashley Marible Black Bedroom Set
Wow !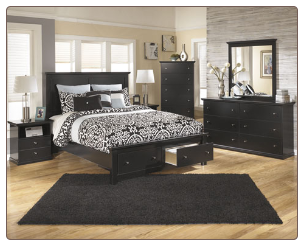 Click to enlarge image(s)

Ashley Maribel collection offers a relaxed cottage design that features beautiful frame details along with scalloped tops and base mouldings all bathed in a rich black finish, the "Maribel" bedroom collection creates an inviting atmosphere that is sure to transform the décor of any bedroom. (B328)

Set Includes: Dresser, Mirror, 2 Nightstand
Optional items: King size bed ,Chest, Twin Panel Bed, King/Queen Platform W/Storage,Full Panel bed,Full Headboard bed.
B138-31 Dresser 63″W x 16″D x 34″H
B138-36 Mirror 38″W x 2″D x 44″H
B138-38 2- Drawer Media Chest 41″W x 20″D x 37″H
B138-46 Chest 33″W x 16″D x 54″H
B138-52 Twin Panel Footboard 43″W x 4″D x 21″H
B138-53 Twin Panel Headboard 43″W x 3″D x 53″H
B138-54 Queen Panel Footboard 65″W x 4″D x 21″H
B138-54S Queen Platform Storage Footboard 65″W x 23″D x 18″H
B138-56 King Panel Footboard 81″W x 4″D x 21″H
B138-56S King Platform Storage Footboard 82″W x 23″D x 18″H
B138-57 Queen/Full Panel Headboard 65″W x 3″D x 53″H
B138-58 King/Cal King Panel Headboard 81″W x 3″D x 53″H
B138-83 Twin Panel Rails/Slats 79″W x 40″D x 7″H
B138-84 Full Panel Footboard 58″W x 3″D x 21″H
B138-86 Full Panel Rails/Slats 79″W x 55″D x 13″H
B138-87 Full Panel Headboard 58″W x 3″D x 53″H
B138-91 Night Stand 23″W x 16″D x 24″H
B138-95 Queen/King Platform Rails N/A
B138-96 Queen Panel Rails/Slats 84″ W x 62″D x 13″H
B138-97 King Panel Rails/Slats 84″W x 79″D x 13″H